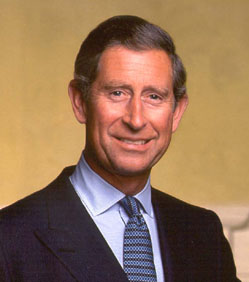 With the story in the news about British social services threatening to remove a grossly overweight eight-year-old boy who weighs four times the healthy weight from his mother, the Prince of Wales has now stepped into the breach, calling for McDonald's to be banned.

As he attended the launch of a public health awareness campaign at the Imperial College London Diabetes Centre in Abu Dhabi he asked nutritionist Nadine Tayara if she had "got anywhere with McDonald's, have you tried getting it banned? That's the key."
A Clarence House spokesman who was travelling with him issued a statement saying that "The Prince of Wales has for a long time advocated the importance of a balanced diet, especially for children. In visiting the Diabetes Centre today, he was keen to emphasise the need for children to enjoy the widest variety of food and not to eat any particular sort of food to excess."

This isn't of course the first time that Prince Charles has stepped into the debate about food, having previously attacked the amount of genetically modified food being produced which has put him at odds with the British Government.
Funnily enough, Princess Diana would often take Princes William and Harry to the McDonald's restaurant opposite Windsor Castle....